Come link up with Toddle Along Tuesday! Gain new followers, make new friends, and check out lots of other cool mom blogs! I'm happy to say that I have gained a couple more followers since joining TAT and I love looking at all the other mom blogs I find there!
Head on over to Our Growing Garden or Growing Up Geeky!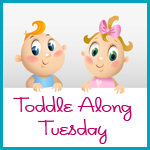 Today is going to be a hot one! Actually all week we are supposed to be in the 90's! Yikes! Looks like lots of time at the lake and in the pool. We have never been to the town pool with bug yet, so maybe this week we will venture there. Summer is shaping up to be wonderful!